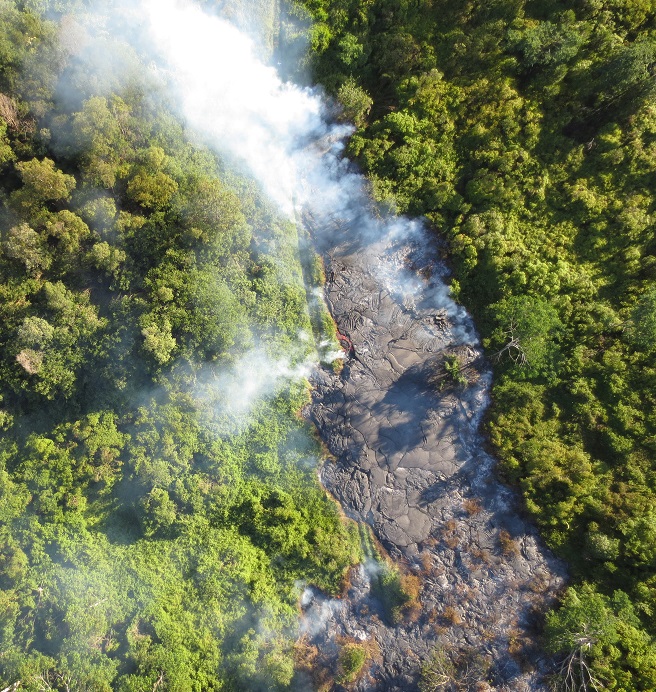 When: Monday, February 23, 2015, 5 p.m.
Where: NELHA Gateway Center
Presenters: Nick Turner and Arthur Cunningham, UH Hilo
Anyone can fly an unmanned aircraft, but it takes a special understanding of Geographic Information Systems to turn imagery into actionable data. University of Hawaii-Hilo has been using UAVs to map the active lava flow on the Big Island since October, 2014, in direct support of Hawaii Civil Defense and USGS disaster relief efforts. Repeat high-resolution imagery and derived topographic datasets have proven valuable in numerous ways, including documenting pre- and post-flow ground conditions, measuring flow inflation rates, and predicting future flow paths. Nick Turner and Arthur Cunningham will discuss the mapping effort and show off their UAVs.

Nick Turner was born and raised in Hawai`i, and is currently employed at UH Hilo's Spatial Data Analysis and Visualization lab as a Geospatial researcher. His focus is on remote sensing with Unmanned Aircraft Systems and satellites for disaster relief and natural hazards. He is a UAV pilot and handles the FAA coordination for their UAV operations.

Arthur Cunningham grew up in Montana, enlisted in the U.S. Air Force, was educated at Embry-Riddle, learned to fly helicopters, and finally got hired by the University of Hawai`i at Hilo. His main focus is to develop and institute the new flight school program at UHH, which he will say a few words about. For the UAV effort, he acts as safety observer and provides communications (via aviation radio) with manned aviation during UAV operations.

This pau hana is BYOB/potluck, so please bring a pupu and beverage to share. Reusable plates and cups are encouraged, as is taking home your own trash. Contact Rod Hinman rod@auroraresearch.com) for more information.

Agenda:
5:00-5:15 p.m. Gather and Networking
5:15-6:15 p.m. Presentation and Q&A
6:15-7:30 p.m. More Networking, pupus
Video from the presentation:

---